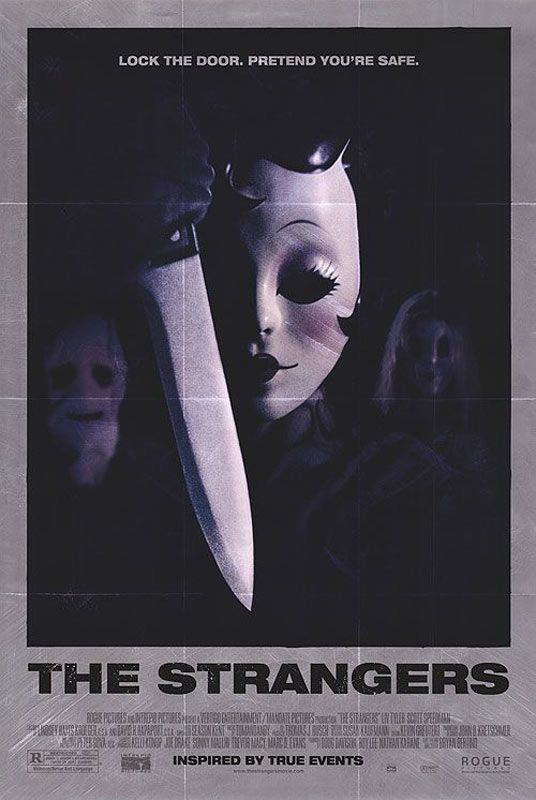 The Strangers
a review by KXII producer Marisa Ruiz
The Strangers, which was written and directed by Bryan Bertino, is your typical scary movie. The movie stars Liv Tyler and Scott Speedman, both of which are spectacular eye-candy to watch on the big screen. The story is about a young couple that decides to vacation in the family's home in the country. Not long after arriving, the two become terrorized by masked "strangers" that refuse to leave the couple alone.
The movie is definitely a nail-biter-edge-of-your-seater, however I quickly got tired of the cat and mouse chase between the helpless house guests and the masked morons. But, if you're in for a good scare, The Strangers is the movie for you! The movie was definitely successful in producing an audience full of people screaming, jumping, and grabbing at the person next them for protection from the big, bad, monsters on screen. This made for a fun and entertaining theatre experience. However, this movie is definitely worth the wait for the rental. On a scale of 1 to 10, 10 being fantastic, I'd give this movie 6.
Indiana Jones and the Kingdom of the Crystal Skull
As a child of the 1980's, I was very excited at the revival of a series that holds so many cherished memories from my youth, and yes, I had both the patented Indy hat and bullwhip, and dug up nearby pastures and yards in search of my own personal treasure, much to my parents and the neighborhood's chagrin.
But the fourth Indiana Jones film left me unsatisfied, for lack of a better word. Where Raiders of the Lost Ark and The Last Crusade inspired and left me yearning for more adventure, Crystal Skull felt like a rollercoaster ride with the storyline pegged in accordingly whereas it would fit into the action.
Crystal Skull picks up years later, after Word War II in the height of the Cold War in the 1950's, and of course, pits our American archaelogical heroes against the Russians, who are seeking a new weapon- a psychological one.
I won't delve into much more of the film for those who haven't seen it yet, but here are three things that I took out of it:
1. If a nonstop thrill ride with tidbits of story and character development are your cup of tea, (which many others I saw the film with were on board with), then you will enjoy this Indiana Jones tale.
2. Whatever magic was captured in the first three movies, I just felt like wasn't there in this movie. I don't see Indy fans embracing and holding this movie dear to their hearts 20 years from now, as I do the first three.
3. If you can put your arms around aliens and flying saucers in an Indiana Jones movie, (Dr. Jones is a respected archaelogy PROFESSOR!)...well, then more power to you.
Matt Griffin
KXII.com