Texas Senate bill would make catalytic converter theft a felony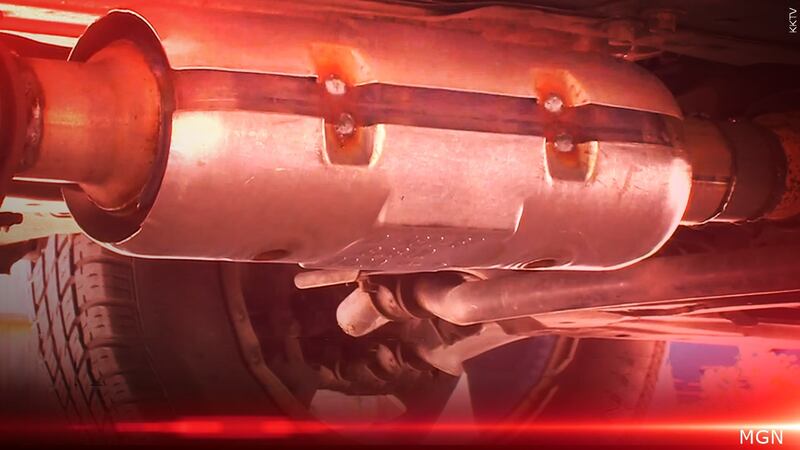 Published: Mar. 27, 2023 at 6:22 PM CDT
WACO, Texas (KWTX) - A new bill in the Texas legislature is hoping to crack down on catalytic converter theft by increasing the penalties for the crime.
In recent years, thieves have stolen catalytic converters for their precious metals like platinum.
If passed, Senate Bill 224, would make catalytic converter theft a felony in Texas and prosecutors could treat it as an organized crime.
"It's giving more flexibility for prosecutors, so hopefully they can really throw the book at somebody," Sen. Carol Alvarado, who sponsored the bill, said.
The bill ultimately aims to reduce the number of catalytic converter theft across the state.
In Waco the city saw 329 catalytic converter thefts in 2021. The next year in 2022 there were 345 thefts, which is a 5% increase. According to the Waco Police Department, so far this year, the city has seen 47 thefts.
Texas Star Tire & Auto Repair in Waco has seen these numbers firsthand. This year, crews typically see around 15 customers a month busy coming in to replace their catalytic converters.
"Catalytic converter theft is very common in Central Texas," repairman Scott Klecka said.
Back in September cameras captured someone in the station parking lot stealing KWTX engineer Brady Bass' catalytic converter.
"When I had it replaced the dealership told me that there was a steel plate that they could mount underneath the truck that wouldn't make it impossible for them to take it, Bass said. "But it would take more time."
Sen. Alvarado's bill is named after Harris County deputy Darren Almendarez who was shot and killed off-duty.
"He interrupted three individuals who were attempting to steal his catalytic converter and he was tragically shot and killed," Sen. Alvarado said.
Under SB 242, if someone is found to have more than one catalytic converter in their possession and they cannot prove ownership, law enforcement could immediately take action.
"There's a market for them apparently, so they need to stop the people that are buying them," Bass said.
Texas Star Tire & Auto Repair gave the following suggestions on how to prevent catalytic converter theft:
Watch your surroundings

Try to park in a garage or somewhere with light

Invest in devices like a CatClamp that serve as a wired cage around the catalytic converter
Copyright 2023 KWTX. All rights reserved.