Grayson County Sheriff announces retirement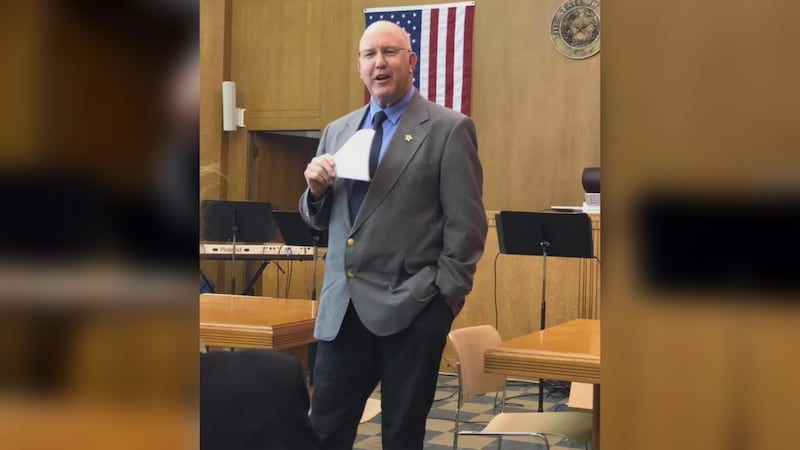 Published: Aug. 31, 2023 at 8:55 PM CDT
SHERMAN, Texas (KXII) - At the end of this term, Tom Watt will retire with a full 43 years of public service.
But his service is not yet finished. Watt said "it truly is a bittersweet experience. [He's] not ready to run out of the door. [They've] got several major projects still going on. [He'd] like to see the jail expansion through to as much to closure as [he] can. Also in the mental health realm of [his] job, [they're] trying to build a diversion center for those folks that need mental health care more than they need incarceration in the county jail. So two major projects that [he's] still going to be working on for the next 15 months."
When his final term ends in a little over a year, Watt said that he will miss the relationships he has built with his colleagues and partners. He said that his fondest memories are "all wrapped up with the people that [he] had an opportunity to work with. They are just the finest people that you can possibly imagine. It has been the highlight of [his] career being able to call them [his] friends and [his] colleagues."
"If you don't have relationships with your partners in the county system, you can't get a lot done. That's another thing [he's] really proud of, [they've] been able to accomplish a lot working with the Commissioner's Court, of course, because without them, [they] would not have been able to upgrade the jail as [they] have. [They] wouldn't have been able to update some of the equipment that [they] have, and certainly [they] would not have been able to move forward with this jail expansion," Watt explained.
During his years of service, Watt said the office delivered on some goals that he had set for Grayson County. "When [he] was elected, [he] had a plan in place, and [he] wanted to upgrade the standards. [They've done that through training and accreditation and things like that. [They] have appointed people in positions that weren't in those positions before, like professional standards, office, training coordinator, and [they] upgraded the equipment in jail with a lot of help from Commissioner's Court. There was a point where the camera system in the jail was at its end of life, and [they] needed to upgrade it from analog to digital."
Watt said he was put on the road to success with the help of former Sheriff Gary who he had the opportunity to personally learn from.
Marty Hall, Captain of the Grayson County Sheriff's office, will be the most tenure person at the office with 25 years of service, said that it will be tough to see Watt go, as for how things will be running, he does not expect a drastic change after the new election. "The mission doesn't change, [they] are gonna stay on the course and keep doing what [they're doing]," Hall said.
Watt wanted to thank all of Grayson County for not only supporting him, but supporting the entire office.
Copyright 2023 KXII. All rights reserved.