Former Texans star JJ Watt inducted into team's Ring of Honor
J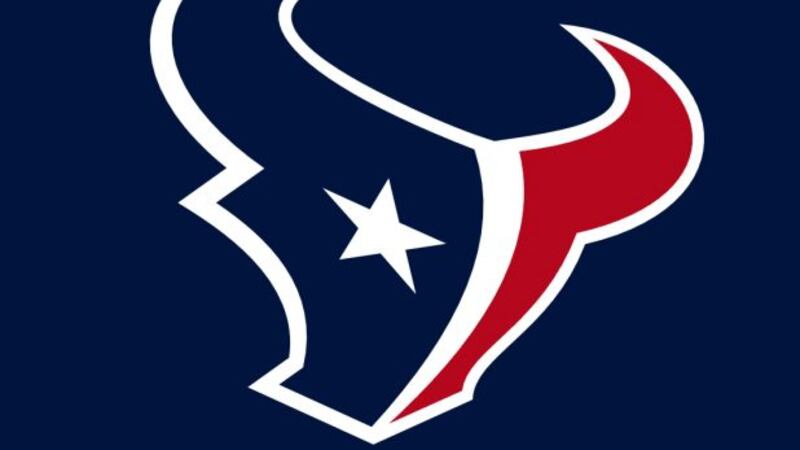 Published: Oct. 1, 2023 at 5:13 PM CDT
HOUSTON (AP) — J.J. Watt was inducted into the Houston Texans' Ring of Honor on Sunday, bringing the defensive end back to the place where he became a superstar.
"I'm back with all my family," Watt said. "It feels like home. I just love it."
Watt became the third person to be put in the Ring of Honor during Sunday's halftime ceremony, joining receiver Andre Johnson and the late Bob McNair, who founded the team. Watt was joined by wife Kealia, 11-month-old son Koa, his parents and brother Derek Watt for the event.
His other brother T.J. Watt was also in the building, but didn't take part in the event because he was playing for the Steelers against Houston on Sunday.
But he did congratulate his big brother in a pre-recorded video played on the stadium big screens after his induction.
Team owners Janice McNair, her son Cal McNair, his wife Hannah McNair and Johnson joined the Watt family on the field for the ceremony.
"I know how proud dad would be … and I want you to know how much it means for our whole family to celebrate you today," Cal McNair said. "You are one of the most dominant players in NFL history and the bond you created with our family, fans and all of Houston is irreplaceable. Congratulations."
Watt, a first-round draft pick in 2011, spent 10 seasons with the Texans, earning three AP Defensive Player of the Year awards during that stretch. Watt holds franchise records for sacks (101), tackles for losses (172), quarterback hits (281) and forced fumbles (25).
The 34-year-old Watt spent two seasons in Arizona before retiring at the end of last season.
Fans chanted "J.J., J.J., J.J.," as he approached the podium to accept the honor.
"Over the last 12 years we've been through some incredible highs and some unfortunate lows," Watt said. "We've always done it together. We've always done it as one. We've always done it as a family. I couldn't be more thankful to have a family like I do with the Houston Texans."
Watt could fill an entire tape with highlights from his incredible run in Houston when his knack for knocking down passes earned him the nickname "J.J. Swatt".
Though it would be difficult for most Texans fans to pick their favorite Watt moment, the man himself easily chose one.
He said that his favorite memory came in Houston's first playoff appearance in the wild-card game in the 2011 season when his interception return for a TD helped the Texans to a 31-10 win over the Bengals.
"I always go back to the most meaningful one," he said. "We had never been to the playoffs before, and we had never won a playoff game. That first playoff game, getting the pick-6 and the sack on the next series. Just knowing what that meant to this city and also for myself — I mean, I needed confidence, I needed to prove to myself that I was worthy of playing in special games at this level. That moment, because of the impact it had, will always be probably my favorite one."
As big as Watt's impact on the field was, his mark off the field might have been even bigger. He became one of the most beloved figures in Houston's sports history for play and his philanthropic work.
His community efforts were highlighted by raising more than $40 million for Hurricane Harvey relief, which earned him the 2017 Walter Payton NFL Man of the Year Award.
"I feel like that's just what you're supposed to do," he said. "I had a job and I have the life that I have because of these fans who watch us play. So, I felt like it was my responsibility to give back to the city that made me who I am and gave me the life that I live."
While Watt is enjoying retirement with his family, he said there are times when he does miss playing.
"To have the ability to electrify a stadium and a city, it is a little sad knowing that I'll never be able to do that again," he said.
But every Monday, he's reminded that he's happy to be retired.
"I do wake up every Monday morning feeling fantastic," he said. "That's the best part."
___
AP NFL: https://apnews.com/hub/nfl