Texas A&M fires head coach Jimbo Fisher, reportedly will pay $76 million in buyout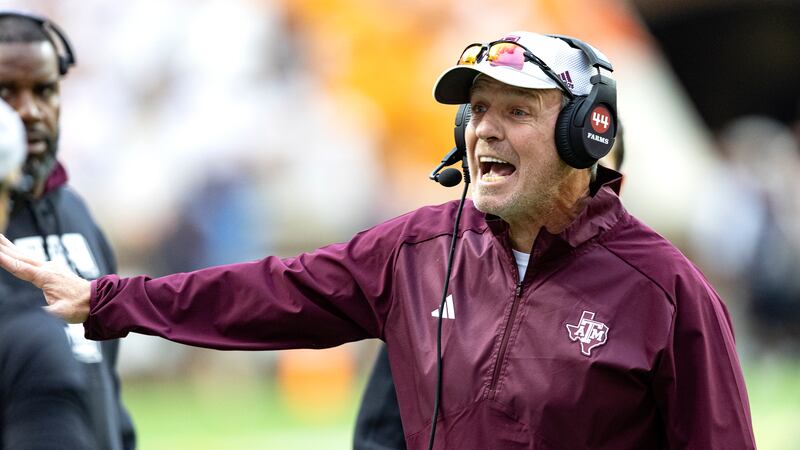 Published: Nov. 12, 2023 at 4:42 PM CST
COLLEGE STATION, Texas (KBTX/Gray News) - Texas A&M officially fired head football coach Jimbo Fisher, according to a statement released Sunday morning.
The university's Director of Athletics Ross Bjork confirmed the news, announcing a "change in Aggie football leadership" in a statement sent to media just after 11 a.m.
"After very careful analysis of all the components related to Texas A&M football, I recommended to President Welsh and then Chancellor Sharp that a change in the leadership of the program was necessary in order for Aggie football to reach our full potential and they accepted my decision," Bjork said. "We appreciate Coach Fisher's time here at Texas A&M and we wish him the best in his future endeavors."
Bjork addressed the media Sunday afternoon.
KBTX had learned of some rumblings late Saturday night that there could be some 'big news' coming out of Texas A&M University concerning Fisher.
Unlike most firings, Fisher's era will end with a victory. Texas A&M beat Mississippi State Saturday night 51-10 to become bowl-eligible.
Fisher did not seem to be aware of the decision by the University to part ways following the victory.
"We're 6-4. Need to be the best 7-4 team in the country and the best 8-4 team in the country. That's our goal. That's what we can control right now. No, I don't dwell on those things right now. I live in the moment, and we got to be ready to play Abilene Christian next week," said the six-year A&M head coach.
Fisher will reportedly be owed $76 million upon his firing, according to sources, which is a record amount for a buyout paid to a head coach. That number is more than double the known buyout paid to a fired college head coach.
Jimbo is 45-25 in six seasons at Texas A&M, and signed a new 10-year contract with $95 million guaranteed in 2021. That deal was given, in part, because of the potential at the time of Fisher leaving for LSU.
An interim head coach has not yet been officially announced, but ESPN's Pete Thamel said Texas A&M associate head coach Elijah Robinson is expected to serve in the role.
Copyright 2023 KBTX via Gray Media Group, Inc. All rights reserved.