Cooking with Chef Karel Anne Tieszen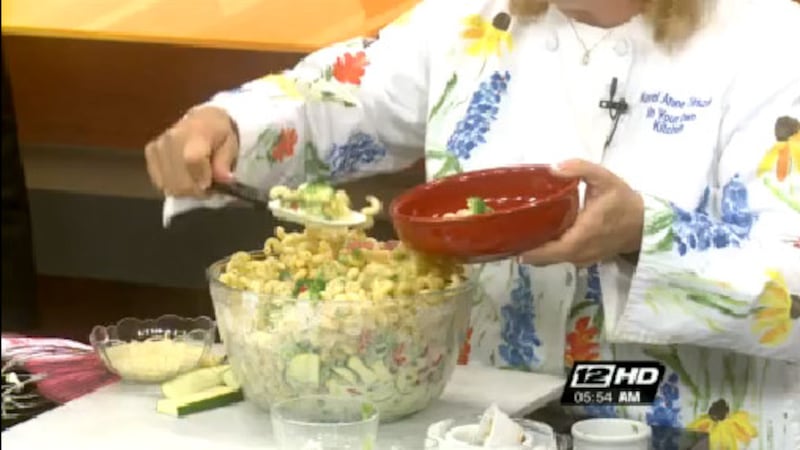 Published: May. 27, 2016 at 7:28 AM CDT
As Memorial Day weekend traditionally heralds the beginning of summer for Texomaland, Chef Karel Anne shares a dish that highlights the delicious summer vegetables, and of course, is easy to prepare.
Pasta Primavera Salad Dressing
Serving Size : 8
1/2 cup yogurt -- non-fat, plain
2 tablespoons olive oil
2 tablespoons lemon juice
2 cloves garlic -- minced
1 teaspoon Dijon mustard
1/2 teaspoon red pepper flakes
1 teaspoon fresh oregano
1 teaspoon fresh basil
salt and pepper -- to taste
1/2 cup pasta liquid -- if necessary to thin
1 cup shredded Parmesan cheese -- tossed on top
1. Using a whisk in a large bowl, combine the yogurt, oil, lemon juice, garlic, and spices. Add just a hint of salt and pepper.
If the dressing seems too thick, add up to 1/2 cup of the pasta liquid after cooking.
2. Cut up fresh summer vegetables, such as zucchini, yellow squash, broccoli, and green peppers, into bite size pieces. Create about 3-4 cups of vegetables.
3. Heat a large pot of water to boil for the pasta. When it comes to a rolling boil, add the vegetables to the pasta basket.
Submerge for just over a minute. Shake the vegetables of excess water, and add to dressing.
4. Cook pasta according to directions, and add to vegetable bowl with dressing. Toss to combine, then sprinkle parmesan cheese on top. Chill.
- - - - - - - - - - - - - - - - - - -
DRESSING ONLY Per Serving: 83 Calories; 7g Fat (71.0% calories from fat); 4g Protein; 2g Carbohydrate; trace Dietary Fiber; 9mg Cholesterol; 185mg Sodium.