Achille woman recovering from dog attack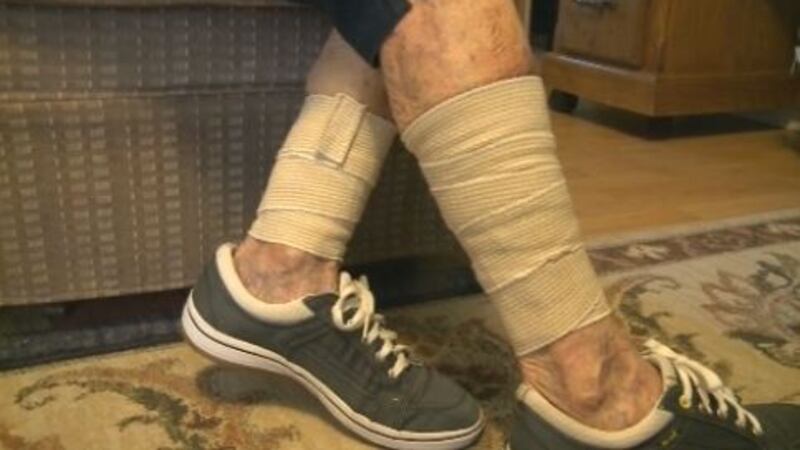 Published: Sep. 27, 2019 at 4:28 PM CDT
An Achille woman is recovering from injuries after she was attacked by dogs last week just outside of her home.
Oleta Bird was taking a stroll around her neighborhood Saturday. On her way back from her walk, Bird said she heard something. That's when she says two dogs came up from behind and attacked her, biting her legs.
"Yeah I was yelling for help," she said.
The dogs let go and wandered off, but Bird needed help and feared she might pass out.
"I was bleeding real bad, so I knew I had to get somewhere for help. Took off as quick as I could, and walked to my daughter-in-law's which is about a block and a half away," said Bird.
Bird was taken to the hospital and will need to wear bandages on her legs until Saturday, or even longer.
"The flesh was torn so bad that they couldn't stitch it," said Bird.
Achille Police Chief Stephen Isedeh said two Catahoula mixes are in quarantine at a local vets office.
The owner received a $200 citation.
Isedeh admits the town has a problem with dogs running loose, and says many of the dogs in town are strays.
He said the police are now enforcing an ordinance that gives dog owners a warning if a dog is loose, and a citation if the dog bites someone.
"If the owner still fails to take care of the animal after we issue a citation, at that point we will take them to our municipal judge and see if he will be willing to issue an order to put them (dog owner) in jail," said Isedeh.
Bird says she hopes the police can control the problem before others get hurt too.
"I'd be scared to death to let kids outside to play because the dogs come through here all the time," said Bird.
Bird says she won't take legal action unless her insurance won't cover her medical expenses.