After 1,600 seizures, 5-year-old boy has 'miracle' recovery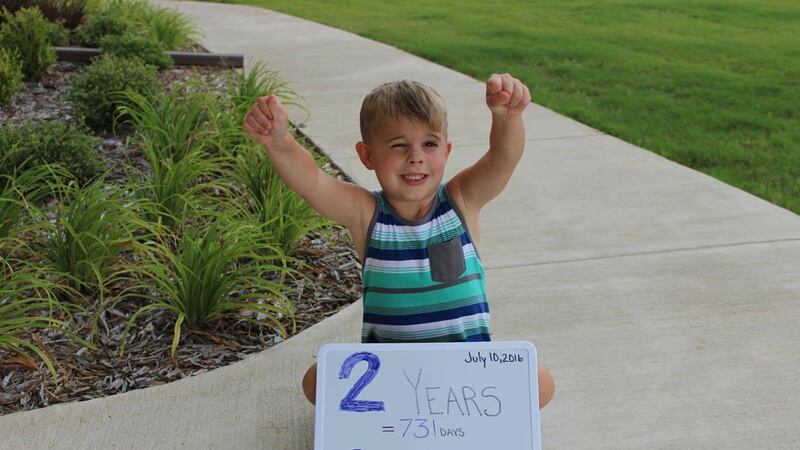 Published: Sep. 7, 2016 at 10:46 PM CDT
Two brain surgeries, four weekly visits with therapists and more than 100 doctors appointments, all before a little boy in Durant even turned 3 years old.
"I am brave," Noah Hansen said.
Besides a scar on the back of his head, you wouldn't know just by looking at this active 5-year-old boy that he's had more than 1,600 seizures and two brain surgeries.
But at 4 months old, Noah was diagnosed with epilepsy and his daily battle began.
"He'd have maybe three to 10 (seizures) a day," Noah's mom Mallory Hansen said.
"You couldn't just leave like a normal person like grab your diaper bag and lets go," Hansen said. "It's grab the diaper bag, grab the three medicines, make sure you have enough syringes."
The Hansens moved to Houston for Noah to undergo tests and try new medications at Texas Children's Hospital, but they said nothing worked.
So in July 2014, Noah had a two-part brain surgery.
"They removed the portion of his brain that was producing the seizures," Hansen said.
After that, they moved back to Durant, prepared by the doctors for fewer seizures, but it's now been two years and Noah has not had a single seizure since.
"We count it as a miracle," Hansen said. "We always say he is a fighter, he's been a fighter since day one."
"Before he couldn't hardly move because he was so tired all of the time and now you can hardly get him to sit down," Noah's dad Craig Hansen said. "It's one of those things where, you know, it's been a blessing."
His parents call his surgery date his "brainiversary." Just recently, he had his first normal post-surgery brain scan and is off of all medications.
Noah's mom said he is still developmentally delayed but each seizure-free day is a new celebration.
"We just take it one day at a time and we know that there is no cure at this point, but he doesn't let that stop him."
The Hansens are advocates for epilepsy awareness, donating and participating in foundation events. It's all in hopes of sharing Noah's story to inspire the community and help others battling the disease.