Anti Black Lives Matter protest at SOSU turns violent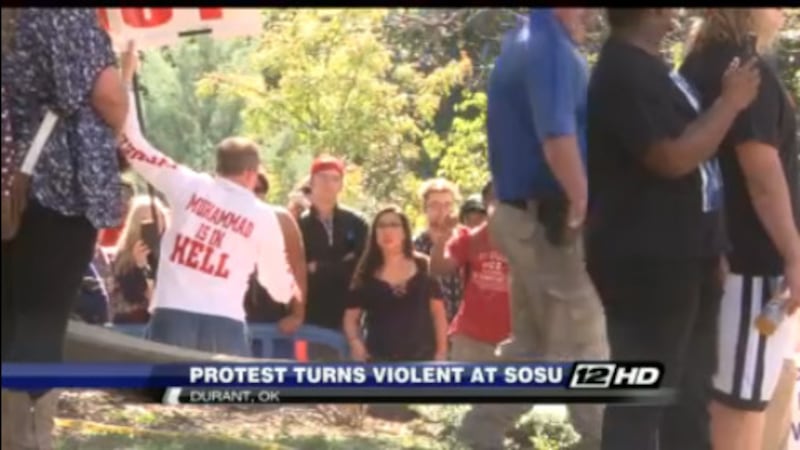 Published: Oct. 31, 2016 at 5:48 PM CDT
DURANT, Okla. (KXII) -- A racially motivated protest Monday afternoon at Southeastern Oklahoma State University turned violent.
Students said a small group of people led by one man started making racist comments about black people, saying anyone who supports Black Lives Matter is racist, and telling them one in three black people has an STD, and they were going to Hell.
"They knew what they were doing as soon as they got there and there was nothing we could have done," Ralontae Whorley said.
Student Sarah Schuller shared what the group was sharing as its message. "They were saying that we were going to go to Hell or some other type of damnation of that sort," she said.
Charles Jackson recounted one of the group's attacks on black students. "He was saying one out of three of us (black people) have STD's (sexually transmitted diseases)," Jackson said. "He was counting 1, 2, 3 STD."
Students we spoke with say group members, who had applied for a permit to preach on campus, were inciting violence with racist comments like, "If you support black lives matter, you're a racist," Whorley said.
Jackson, a junior, was just leaving theater class when he saw the crowd. He tells us he's all for the first amendment, but this demonstration went too far.
"One of the football players wanted to take the sign from them, and so it got people riled up and they started crossing the barricade," Jackson said. "And so it started causing tension and people trying to hold him back which caused more tension."
The pushing and shoving led to fights between students which police peacefully ended within about five minutes.
Quickly after that, the demonstrators were escorted off campus by officers.
"The moment that I thought the safety, health and welfare of my students was compromised we made the decision to end it," SOSU University President Sean Burrage said.
Burrage said there will be a full investigation to find out how this group got access to campus.
"After talking to some of our leaders on campus, he used all the right kind of mechanisms to get his way in here," Schuller said. "He applied. He claimed he was just going to be preaching so no one really knew that it was going to be like this."
Said Whorley: "I'm a firm believer in God and all I can do it pray for them people. God bless them. I pray they find God. That's it."