Bluestem Master Naturalist Landowner Education Program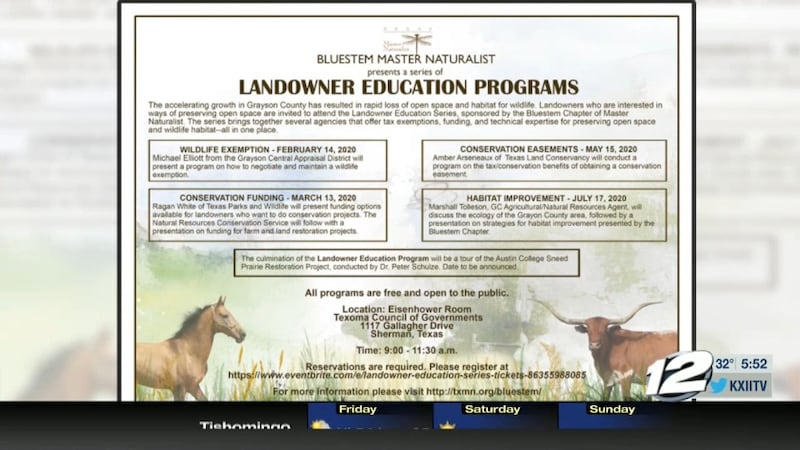 Published: Feb. 6, 2020 at 8:11 AM CST
On February 14, 2020 lectures begin with Wildlife Exemptions. Michael Elliott, a Registered Property Appraiser from Grayson Central Appraisal District, will present a program on how to negotiate and maintain a wildlife exemption for your property.
On March 13, 2020, Texas Parks and Wildlife representative, Ragan White, will address options for funding available for landowners who want to do conservation projects. The Natural Resources Conservation Service will follow with a presentation on funding for farm and land restoration projects.
The third lecture will be held on May 15, 2020 on Conservation Easements. Amber Arseneaux of Texas Land Conservancy will conduct a program on the tax and conservation benefits of obtaining a conservation easement
On July 17, 2020, Marshall Tolleson, Grayson County Agricultural/Natural Resources Agent, will discuss the ecology of the Grayson County area. This talk will be followed by a presentation by Bluestem Chapter members on strategies for habitat improvement.
All lectures are free and open to the public. Except for the walking tour of Sneed Prairie, all lectures will be held in the Eisenhower Room at Texoma Council of Government (TCOG).
The address is 1117 Gallagher Drive in Sherman. The time for all lectures is from 9 – 11:30 a.m. Reservations are required as there is limited room.
Please register for each separate lecture at the links provided and for more information email us at landownerseries@gmail.com.