Collinsville man saves drowning deer in Lake Texoma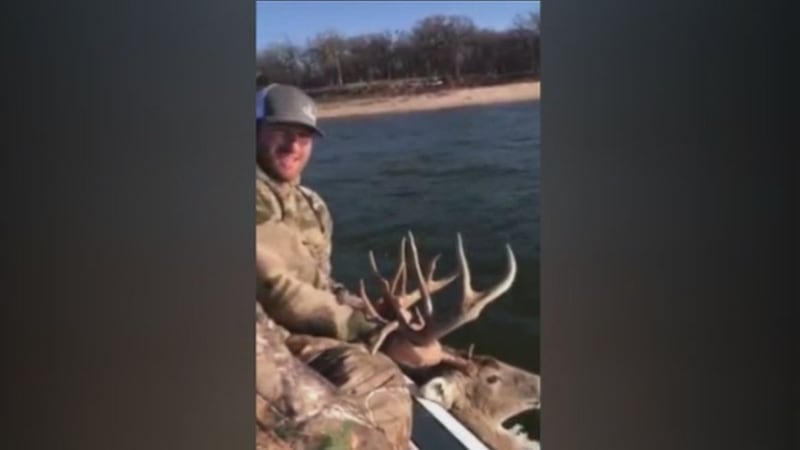 Published: Feb. 2, 2017 at 9:13 PM CST
POTTSBORO, Texas (KXII) -- A Collinsville man rescued a wild animal from Lake Texoma this weekend and it's all caught on video.
It started as a normal fishing trip for Blake Wilson and his friend, taking off from Lighthouse Marina on Lake Texoma early Saturday morning.
"And about half way between the dam and the Washita River, I saw what looked like a brush pile," Blake Wilson said.
But after a second look, he realized it was a white-tail deer, drowning in the middle of the lake.
"So we immediately turned around and got to the deer, which he was under water at the time and he went under about three times before I could grab him," Wilson said.
In the video, you can see that Wilson then held the deer by its antlers as they towed it for about 20 minutes back to shore.
"He was struggling for a little bit, fighting me when I was holding him," Wilson said.
Wilson dragged the deer safely onto the land, but the story doesn't end here.
"I noticed his breathing was real abnormal and started giving him chest compressions," Wilson said.
The deer then coughed up water and ran into the woods.
It was a rare kind of rescue, a deer fighting for its life and a hunter stepping up to save it.
"For a sportsman to rescue a deer, take him to the shoreline and risking his life, his safety, for an animal, is above and beyond," Bob Harnish said.
Bob Harnish works at Lighthouse Marina and sees the lake every day, but one thing he's never seen is a deer in the middle of the lake like this.
"To rescue an animal of that size and magnitude is just astounding," Harnish said.
And it seems people on Facebook agree, with now more than 1.1 million views on Wilson's video he posted.
"I've never seen anything like it," Harnish said.
"Just as part of being a sportsman, you know that deer was in trouble and I felt like I needed to help him," Wilson said.