Copperhead bite lands Texas toddler in ICU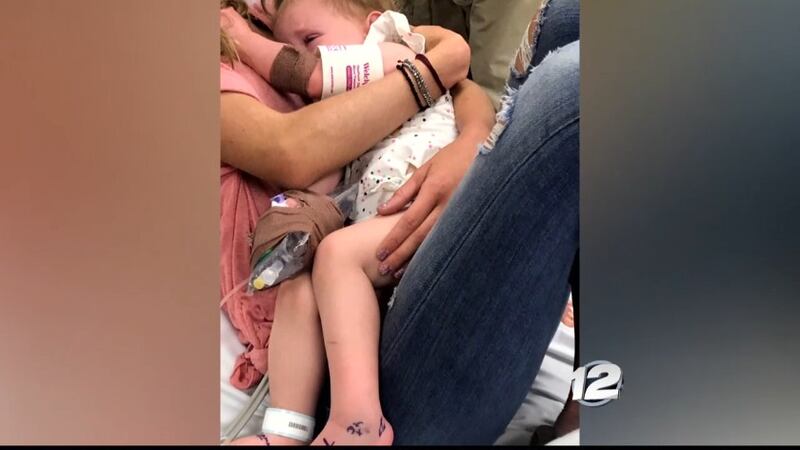 Published: Apr. 9, 2019 at 10:52 PM CDT
2-year-old Wesleigh lives in Nemo, Texas, southwest of Dallas.
Her mom Sydnee tells us they were getting into their truck when a copperhead bit her little leg, landing her in the ICU.
Sydnee says they were told by Cook Children's hospital staff this was their first snake bite of the year but they expect that to change quickly.
Wesleigh's mom posted a photo on Facebook, to show people how dangerous copperheads can be.
Her family in Texoma shared it and it's reached thousands of people.
Her mom was not able to comment on camera but told us she hopes other parents will see it and be on the lookout for venomous snakes like the copperhead that bit her toddler.
She tells us Wesleigh has improved since Monday night and after her third round of antivenom Tuesday, she was moved out of the ICU and is expected to fully recover.
"Snakes are a part of the habitat and they're going to here. Just take precautions as far as wearing the proper clothing, not being aware, not walking barefoot at night. Be smart about these animals and their environment and they will not hurt you," said Courtney Anderson, General Biologist at the Hagerman National Wildlife Refuge in Grayson County.
Wildlife experts say copperheads, cotton mouths, and rattlesnakes are emerging from their winter hibernation and seeking spots they can regulate their body temperature.
That means they come into contact with humans more often.
Medical professionals say that's why they see more of these bites in the warmer weather and they're prepared.
'We carry an antivenom called CroFab and we have it available year-round but we really see an influx of it in these summer months when the snakes become more active and people become more active. They get outside in their yards and doing yardwork and they have a higher risk of being bit by a venomous snake," said Emily Johnson, MSN, RN with TMC Trauma Services.
They say if you are bitten, do not to try to get the venom out yourself. Get help.
"Anytime that you think you've been bitten by a venomous snake, you want to immediately seek treatment by a professional and come to the emergency department," said Johnson.
Wildlife experts say knowing where snakes will be is one way to avoid crossing paths with them.
They also suggest stomping through areas of tall grass because snakes, although hard of hearing, can feel the vibrations and know to stay out of the way.
Also, don't think it's only the head shape that determines if a snake is venomous know what they look like and where they are found.