Cranberry Mango Holiday Cobbler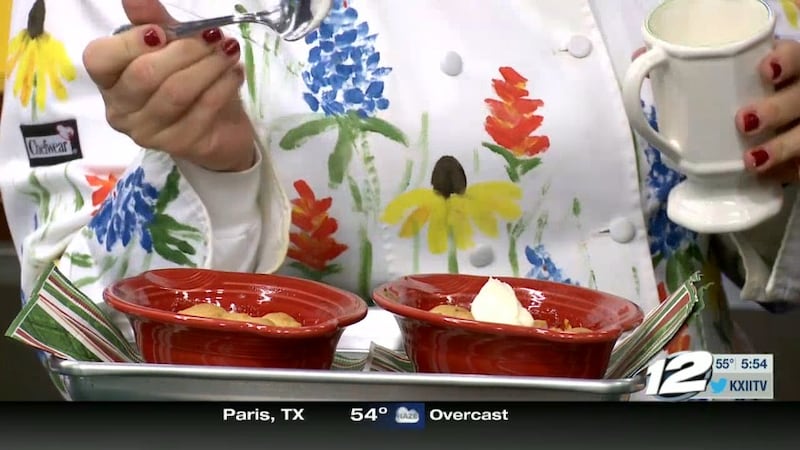 Published: Dec. 27, 2019 at 8:44 AM CST
Are you looking for something interesting to take to the New Year's Eve party? Have some leftover cranberries? I've got it all set for you! HAPPY NEW YEAR!
Cranberry Mango Holiday Cobbler
Serving Size : 6
2 cups cranberries
1/3 cup sugar
1 Tablespoon orange zest
3 Tablespoons unsalted butter
3 Tablespoons sugar
1 egg
3/4 cup flour
2 teaspoons baking powder
1/4 cup heavy cream
2 cups mangos -- peeled and cubed
1. Preheat oven to 350F
2. Grease and flour an 8x8 dish. Rough chop the cranberries and place in a bowl with 1/3 cup sugar and zest. Stirring occasionally, allow to sit for at least 15 minutes.
3. For the dough, beat together the butter and 3 Tablespoons sugar until light and fluffy. Add the egg and mix well. After combining the baking powder and flour, mix a little at a time, adding cream to moisten as you go.
4. Stir the mangoes into the cranberry mix, and spread on the bottom of the prepared dish. Spoon the dough over the fruit, covering it completely.
5. Bake in the oven for about 50 minutes to an hour, until the crust is golden. Allow to stand for 10 minutes before slicing. Serve warm.
- - - - - - - - - - - - - - - - - - -
Per Serving : 207 Calories; 8g Fat (33.7% calories from fat); 3g Protein; 33g Carbohydrate; 2g Dietary Fiber; 48mg Cholesterol; 135mg Sodium.
NOTES : If fresh cranberries are unavailable, frozen cherries may be used. Do NOT macerate with sugar; only stir in the zest.