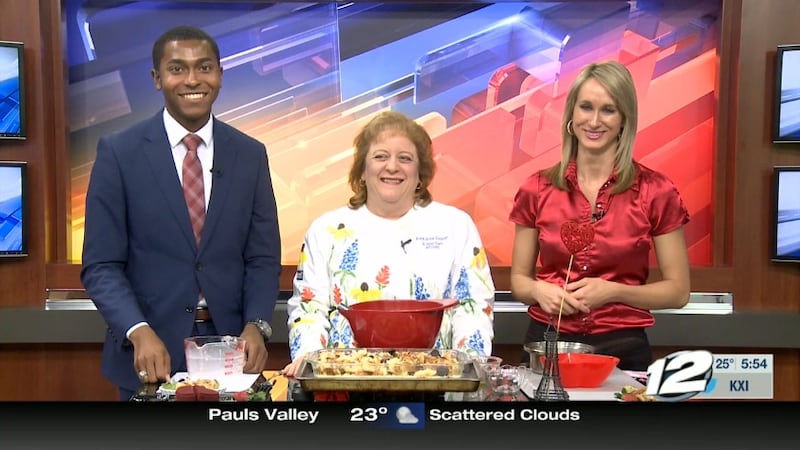 Published: Feb. 14, 2020 at 6:20 AM CST
If you have been traveling, or not reading your calendar correctly, today might be a day you weren't expecting to arrive so quickly.
This dessert dish has just enough sweet, and just enough substance, to show that your special one is worth it. I won't tell them how easy it was. But I *will* tell you that I was not a fan of bread pudding until it involved CHOCOLATE. Raise a fork for Cupid!
[NOTE: Instructions for a smaller version of this dish follow below]
Strawberry-Kissed Croissant Bread Pudding
Serving Size : 12
12 croissants -- torn in pieces
12 ounces chocolate -- cut in 1/2 inch pieces
1 cup heavy cream
1 Tablespoon vanilla extract
1 cup sugar
3 large eggs
3 egg yolks
2 cups milk
12 strawberries -- with stems
1. Preheat the oven to 350F. Prepare a non-metallic 13 inch x 9 inch pan with non-stick spray.
2. Place most of the torn croissants in the prepared pan. Tuck and hide the chocolate pieces among the croissants. Cover about half of the chocolate with the remaining croissant pieces.
3. Heat the cream in a glass measuring cup in the microwave for 1 minute. Stir in the vanilla and heat one minute more.
4. Whisk together the sugar, eggs and egg yolks in a medium bowl. Slowly add the warm vanilla cream and whisk to combine. Stir in the milk to incorporate thoroughly.
5. Pour the egg mixture through a small strainer over the croissants. When half of the liquid has been poured, gently push down the bread with the back of a soup spoon to encourage absorption of the cream. Pour remaining liquid over the bread pudding.
6. Place the 13 x 9 in a slightly larger pan, and pour hot water in the larger pan to a depth of about 1 inch. [Officially known as a bain-marie]. A lipped cookie sheet or jelly roll pan works well.
7. Bake in the pre-heated oven for about 45 minutes and until a knife comes out wet, but clear.
8. Slice into squares, and top with the strawberry on each plate.
- - - - - - - - - - - - - - - - - - -
Per Serving : 573 Calories; 33g Fat (50.3% calories from fat); 10g Protein; 63g Carbohydrate; 3g Dietary Fiber; 177mg Cholesterol; 476mg Sodium.
For 4 servings use a smaller pan, such as an 8x8 or 6x6. Bake for 25 minutes.
4 croissants -- torn in pieces
4 ounces chocolate -- cut in 1/2 inch pieces
1/3 cup heavy cream
1 teaspoon vanilla extract
1/3 cup sugar
1 large egg
1 egg yolk
2/3 cup milk
4 strawberries -- with stems