One dead, one stable in Howe helicopter crash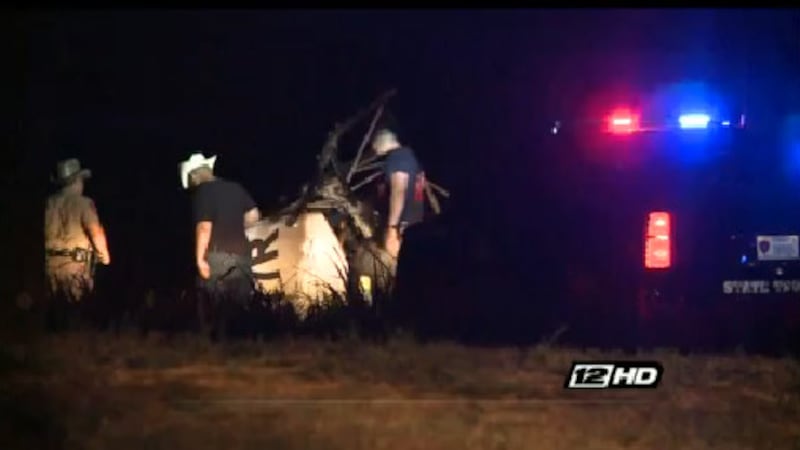 Published: Aug. 9, 2016 at 9:12 PM CDT
HOWE, Texas -- One person has died from injuries sustained in Tuesday's helicopter crash near Howe.
Both were taken to Wilson N. Jones Medical Center in Sherman after the helicopter crashed around 8:35 p.m.
Texas DPS Trooper Mark Tackett said the instructor, Daniel Katen of Lewisville, died at 6:45 a.m. Wednesday due to injuries sustained in the crash.
Troopers said Matt Cavender, 44, of Howe, was flying his 1979 Rotocraft 269-C helicopter when it crashed near Bennet Road. Cavender's passenger and flight trainer was Katen, 58.
Investigators said the men took off from Cavender's home nearby, and cut power at 1,000 feet as part of the training -- but could not restart teh aircraft.
"The pilot and the instructor were up doing maneuvers, and for some reason the helicopter lost power and crashed," Tackett said.
Jeff Leake said he lives up the street, about the distance of three football fields from where the accident happened.
"I was up there at my house and all of a sudden someone was knocking on the door," Leake said. "It was the pilot saying, 'Help me, help me, I crashed my helicopter and my friend is stuck down there.' "
Leake said he immediately called 911 and drove down to the crash with the pilot, who he said was injured and bruised.
"I saw his buddy still trapped underneath and the machine was on his arms," Leake said. "I lifted it up, flipped him over, prayed and started doing CPR with the help of the pilot until crews showed up."
The National Transportation Safety Board will take over the investigation when they arrive Wednesday afternoon. Tackett said the cause will not be confirmed until the FAA investigates.
Stay with News 12 for the latest updates.