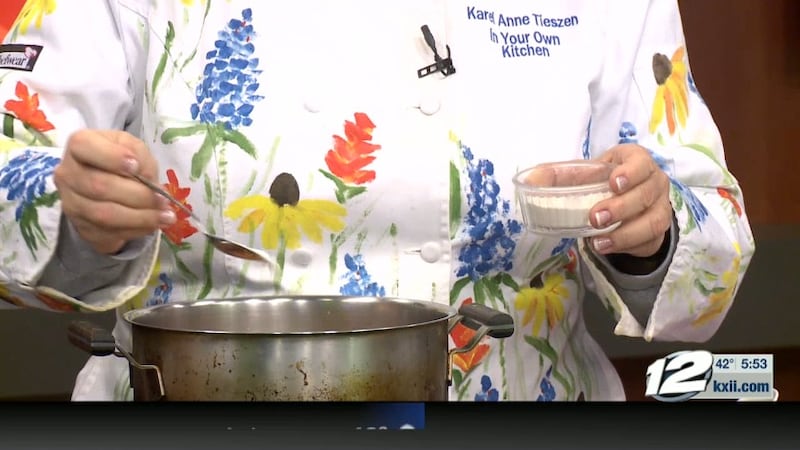 Published: Mar. 6, 2020 at 7:29 AM CST
Getting you ready for the next cold snap, and allowing you to stay meatless for Lent!
The timing on the recipe today looks long, due to the 45 minutes for the rice and caramelized onions. However, if you prepare these two items ahead? Then dinner takes less than 15 minutes – TA-DA! I just love those days! Grab a spoon and let's dig in!
Mushroom Wild Rice Soup
Serving Size : 8
4 cups vegetable broth -- (add'l 3+ cups in step 5)
3/4 cup wild rice or wild rice blend
1 Tablespoon extra-virgin olive oil
2 large yellow onions -- thinly sliced (2 lbs.)
8 ounces mushrooms -- minced
1 Tablespoon extra-virgin olive oil
1 Tablespoon vegetable oil
1/2 cup carrot -- 1/4 inch dice
1/4 cup celery -- 1/4-inch dice
2 Tablespoons flour -- (up to 1/4 cup)
1 Tablespoon Worcestershire sauce
1 teaspoon Tabasco sauce
1 cup heavy cream -- (or whole milk)
salt and pepper
1. In a large saucepot, prepare the wild rice with 4 cups of broth. When the rice is tender (about 45 minutes to an hour), remove the prepared rice to a bowl. Drain remaining broth into a large measuring cup, and add more broth to make 5 cups total.
2. Add oil to a large sauté pan. When the oil begins to shimmer, start half of the onions cooking, then add the remaining onions a couple of minutes later. Cover for about 4-5 minutes, until liquid pools in the bottom. Turn the heat to a low simmer and stir generously, then re-cover the pan. Repeat every 4-5 minutes. Add a splash of water if the onions start to stick to the pan. When they are finished, the onions will be the color of bourbon, and it will take about 35 minutes. Remove to a bowl. Creates about 1 1/2 cups.
3. Using the same pan as the onions, add the minced mushrooms. Stir until they lose their residual water and stir into the caramelized onions.
4. In a heavy soup pot over medium heat, pour in the oils and heat to a shimmer. Add the carrot and celery. Stir and cook for about 3 minutes; carrots will still feel firm. Add the 2 T flour to make a small roux (additional flour is only required if the vegetables are not well coated). Stir and cook up to 3 additional minutes.
[NOTE: A roux is the mixture of the fat and flour, cooked until bubbly and light brown to remove the raw starch taste of flour]
5. Add the Worcestershire, Tabasco, and 1 cup of the hot stock. Whisk away any lumps of flour. Stir in the onions, mushrooms, and cooked rice. Pour in the remaining broth and bring to a boil. Allow to simmer 3-5 minutes. If soup seems too thin, remove less than a cup of the hot broth to mix with a little flour, and add back to the soup pot. Simmer a couple of minutes to remove the raw flour taste.
6. Just prior to serving, remove from heat, and stir the cream into the soup. Taste for salt and pepper. Serve in warm bowls.
- - - - - - - - - - - - - - - - - - -
Per Serving : 319 Calories; 18g Fat (50.6% calories from fat); 7g Protein; 33g Carbohydrate; 4g Dietary Fiber; 42mg Cholesterol; 854mg Sodium.
NOTES : * Wild rice is not really a rice. It is a long grain marsh grass with a nutty flavor and chewy texture