New exotic zoo planned for Love County with familiar face behind it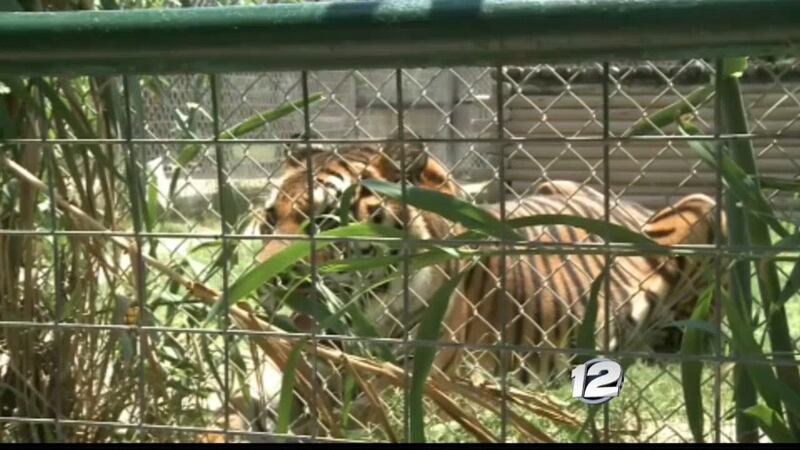 Published: Feb. 19, 2019 at 10:51 PM CST
A new zoo is coming to love county, just behind the Winstar Casino in Thackerville, that promises an interactive exotic experience for all its guests.
But a familiar face is behind the creation and some neighbors are not pleased with who it is or where the zoo is being built.
Red River Safari is listed as a wildlife refuge on its Facebook page.
The man behind it, Jeff Lowe, is facing charges in Las Vegas related to his possession of exotic animals.
Those animals have been seized.
But Lowe has many more, thanks to his recent takeover of a Garvin County exotic animal park.
"Around December, that's when Cheryl Scott purchased the property next to us," said Amy Metcalf, who lives near the site where the new zoo is planned.
Love Country records show a house and roughly 33 acre lot on Jimbo Road were purchased by a 64-year-old widow from Oklahoma City officially in January.
That same address is listed as the location for Red River Safari on their Facebook page.
"I can hear some equipment from time to time," said Metcalf.
In an email, co-founder Jeff Lowe confirmed he is building the new zoo in Thackerville and said it's slated to open mid-summer of this year.
Much to the dismay of several nearby home and property owners.
"It's the people that come along with it. They have a record," said Metcalf.
Amy Metcalf's concern stems from Lowe's active warrants out of the city of Las Vegas for three charges of having exotic animals without a license: a liger, a tiger and a lemur and one charge of doing business without a license.
Court documents show in 2016, Lowe was also listed as president of the corporation that ran the Greater Wynnewood Exotic Animal Park, known for its eccentric past owner, Joe Maldonado Passage - or 'Joe Exotic' - who was also accused of mistreating the tigers and other animals in the park.
Metcalf says when she went to the property Lowe is developing for the new zoo, she and her husband were met with threats from Lowe on Facebook.
"Since then, in order to protect my children, I've put up surveillance cameras," said Metcalf.
On Monday, the Red River Safari Facebook page announced a partnership between Lowe and a man named Tim Stark of Illinois, who has seen his own share of legal trouble.
Stark's company, Wildlife in Need, lost a lawsuit based on the Endangered Species Act brought against them by PETA in February of 2018.
The suit led to an injunction against the company requiring them to stop declawing the exotic cats they had, because it had resulted in harm for the animals.
"There's many reasons. It's not just safety. You know, it's bringing in traffic, trash, just little things," said Metcalf.
Lowe currently owns the animals still housed at the Greater Wynnewood Exotic Animal Park and has expressed his plans to move them and close that location when the Thackerville zoo opens.
"I mean, it could be great, you know. There's a lot of kids in this town. People want to go see animals. I mean, who doesn't love animals. But when you have con artists behind it, it makes it a little scary," said Metcalf.
News 12 spoke with more neighbors who didn't want to go on camera who say they are concerned about large exotic animals living so close to their dogs, cats and cattle.
They say even more worrisome is that the zoo is being built on a road where children and elderly people often walk.
Lowe would not comment further on when the zoo is expected to be complete.