Several Texoma sheriffs declare counties "Second Amendment sanctuaries"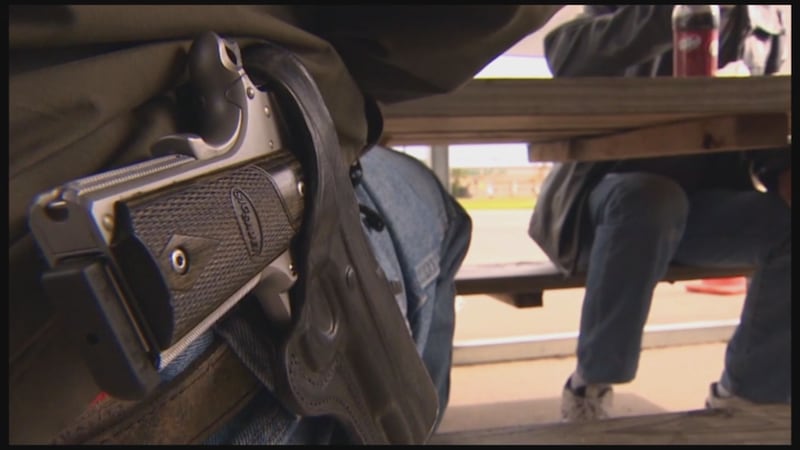 Published: Feb. 19, 2020 at 6:56 PM CST
Counties across Texoma are coming out as Second Amendment sanctuary counties, protecting law-abiding citizens' right to keep and bear firearms.
Johnston County is one of at least 11 counties in Texoma took make the declaration, many of them coming in the last two months.
"We take an oath to support, defend the Constitution of the United States and the laws of the United States," Sheriff Jon Smith said. "The Second Amendment is definitely part of our constitution and the original Bill of Rights, so we stand at the forefront of protecting peoples' rights."
A Second Amendment sanctuary refers to places that adopt laws or resolutions that protect law-abiding gun owners from new laws that could violate their rights.
Johnston, Marshall, Bryan, Atoka, Coal, Pushmataha, Choctaw, Stephens and McCurtain counties in southern Oklahoma already issued proclamations declaring Second Amendment sanctuaries.
Fannin and Cooke counties in Texas have passed similar ones.
Several more on both sides of the Red River tell News 12 they are considering it.
Pontotoc County Sheriff John Christian said he supports the Second Amendment but did not feel the need to make a declaration given his oath and duty is already to uphold the U.S. and Oklahoma constitutions.
Smith says he has received mostly positive feedback from citizens since making the declaration.
"People are taking notes at some of these comments that some of our political hopefuls are making, at least," Smith said. "They're kind of getting roused up about it, gaining attention."
There are some opponents to the movement, including one state representative from Oklahoma City who said this issue should be left up to the courts.
Gary Dodd, Johnston County under sheriff, said the deputies in the office are here to defend the rights of the people as best as they can.
"Some may call this a political stunt, but last time we checked, protecting the people's rights and them is not a political stunt," Dodd said. "It's our duty. It's also part of the oath we took."
Smith said the Johnston County board of commissioners is prepared to issue a resolution in support of the declaration on Monday.