Tractor-trailer wreck in Dickson kills one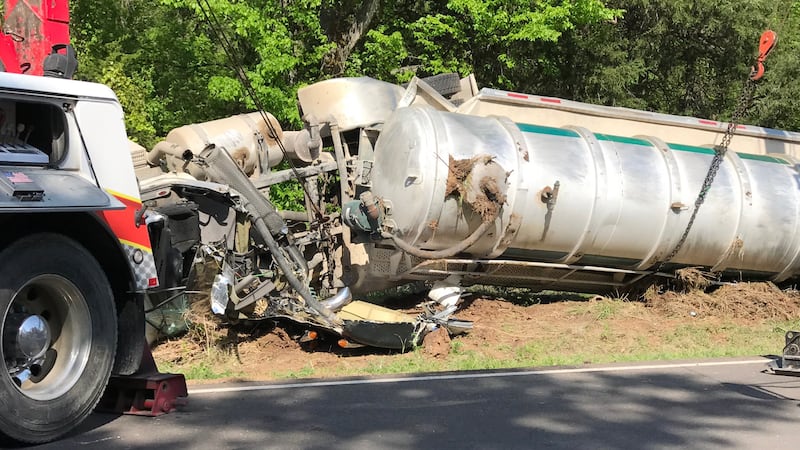 Published: Apr. 11, 2017 at 12:32 PM CDT
(UPDATE: 4/11/17 @ 6:30 p.m.)
DICKSON, Okla. (KXII)-- New details have been released in a semi-truck accident that left the driver dead Tuesday morning.
Kenneth O'Shields travels Dickson Road every day to take care of his horses, which is why he hated to hear that a semi ran off the road early Tuesday morning, killing the driver.
"Its a pretty sad deal, really. There's no telling what happened exactly." O'Shields said.
51-year Billy Summitt, of Thackerville, was transporting a tanker of salt water from Dickson to Wilson, when O.H.P says he ran off Dickson Road and rolled onto the roof of his cab.
"Fatality collisions are the most difficult thing we have to deal with," Trooper Hayden Darst said. "From arriving on scene and having to compartmentalize and take things in and do your job, from having to do death notifications, next of kin notifications, it's definitely the most difficult part of our job."
The accident happened north of Tater Hill Road, just after 7 Tuesday morning. It took emergency responders nearly an hour to unpin Summitt from inside the cab.
"The investigation is still underway, the cab was very damaged, but the medical examiner is still doing their examination and everything." Darst said.
And while O.H.P is still investigating the exact cause, O'Shields is praying for the family.
"You hear something like that and you always pray, and make sure everything is going to work out alright for his family." O'Shields said.
(ORIGINAL:)
DICKSON, Okla. (KXII) -- A tractor-trailer transporting salt water overturned Tuesday in Carter County, killing the driver.
It happened on Dickson Road around 7 a.m.
The Dickson Fire Department tells us the truck, driven by Billy Summitt, 51, overturned and flipped off the road.
It took emergency responders longer than half an hour to cut Summitt out of the cab. The driver was killed in the accident.