Turner Falls park closes pool a month early after two men drown Tuesday morning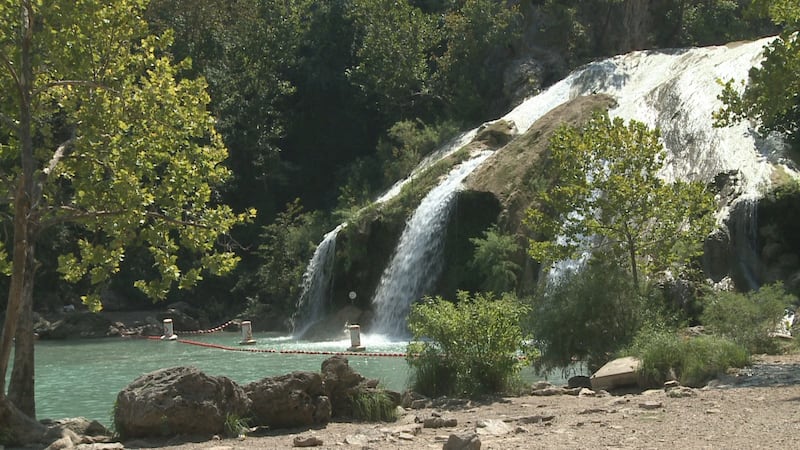 Published: Sep. 3, 2019 at 6:23 PM CDT
Turner Falls park has closed one of its popular swimming areas about a month early after two men drowned there Tuesday morning.
Police said they got a call of a person in distress at the falls swimming area around 10 a.m.
While police were en route, a friend jumped in to help the man but became a victim himself.
Police said both men were Indian nationals, studying at the University of Texas at Arlington and had come to Turner Falls with fellow college students.
Davis firefighters recovered the bodies of the men who were under nine feet of water.
Police said they suspect neither man could swim very well and neither were wearing a life jacket.
This marks the third and fourth drownings at the park this summer.
Around the Fourth of July, a 27-year-old woman and a 39-year-old man drowned.
Both of those victims were also from India.
Dee Gregory, asst. chief for Davis police, said the park usually closes the falls pool to swimmers around Oct. 1 but the two drownings changed that.
"After the events of today, the City of Davis, the city manager, the city council have decided that we're going to go to winter rates today," Gregory said.
That also means the Blue Hole diving board and slide are now closed for the winter months.
Park visitors are still allowed to wade in the creek and swim at the Blue Hole but park staff wants to remind people to stay safe.
"As an adult, if you can't swim or you're not a strong swimmer, put on a life jacket. Put on a life jacket to enjoy water that's over your head or where you can't stand up," Gregory said.
Since 2016, 10 people have now drowned at Turner Falls, which made the decision to do away with lifeguards this spring.
Davis police said they are working to contact the Indian consulate so the victims families can be notified.