Woman killed by dogs in Ardmore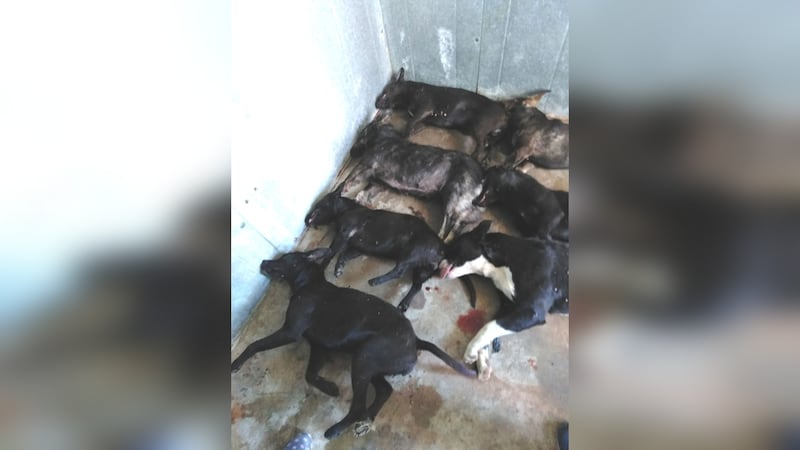 Published: May. 11, 2018 at 10:04 AM CDT
(UPDATED: 5/11/18 @ 6:00 p.m.)
(WARNING: Graphic photos)
An Ardmore woman was attacked and killed by a group of dogs late Thursday night.
"I was scared, I was not wanting to go outside, and I was just wanting to stay inside by my parents." 13-year-old Shaylea Mays said.
Mays was watching television when a slew of red and blue lights flew by her family's home off Banyon Road.
"I heard a gun shot, and so I went to the backyard, and I also got to see a helicopter fly up." Mays said.
Sheriff Chris Bryant says a woman in her 50's was attacked by seven of her neighbor's dogs just before 10 p.m.
When deputies arrived. they had to shot and kill on of the dogs that had charged them.
"We're trying to find out what exactly [happened]," Bryant said. "in the county there is no leash law, and that residence is in the county."
The woman passed away at the hospital.
The six remaining dogs were rounded up, and put down at their owner's request.
The shelter that later received the dogs identified one as a collie mix, the other dachshund mixes, none weighing more than forty pounds.
"It's absolutely awful. Anytime you go to a dog bite call or a dog is attacking people in general, it is disturbing," Bryant said. "Our prayers are with the family of the victim, and the rest of the community because this is a very unfortunate situation."
Bryant says they are still investigating what led up to the attack, and any charges if any will be up to the district attorney after the investigation is finished.
"It's sad, and I wished she could stay alive, and the dogs wouldn't have messed with her," Mays said. "It happens, but I wish she was still here with us."
The victim's identity has not yet been released.
(ORIGINAL:)
A woman was attacked and killed by a neighbor's dogs Thursday evening in Ardmore.
Carter County Sheriff Chris Bryant tells us it happened on Banyon Road just before 10 p.m. Thursday.
Bryant says a woman in her fifties was attacked by seven dogs.
He says medical personnel were already on-scene treating the woman, but she later died at a hospital.
Bryant says what exactly happened remains under investigation.
He says the woman lived in the area, but he did not immediately release
her name.
The sheriff says the dogs have been euthanized at the owner's request.
No arrest has been made. The investigation is ongoing.
Stay with News 12 today for updates on this developing story.
The Associated Press contributed to this report.